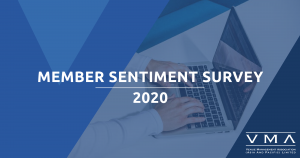 As Chair of the VMA's Membership and Marketing Committee I would like to personally thank all our members that took the time to provide their feedback and thoughts in our latest Member Sentiment Survey. Pleasingly we had an 18% response rate from the membership and rest assured – We are listening!
The VMA Board are using this data to help guide our decision making process and ensure that we continue to deliver programs and services that are needed, relevant and of value to you.
The following is some of the highlights from the survey:
Were you aware of the 12 month membership fee free period offered by the VMA?
It was pleasing to note that 82% of you knew of this financial support we have offered to members. While membership income is one of the VMA's key revenue streams this initiative was put in place to assist our membership during this very difficult time. We know many of our Active and Allied members are doing it very tough and this is our way of saying we are all in this together.
Were you aware of the VMA Digital Series and do you feel it provided content useful to you?
Over 92% indicated they were aware of the Digital Series with a satisfaction rating of 2.4 out of 3. We know that we had some amazing presenters and topics in season 1 of the series and we are thrilled that you have enjoyed it as much as we have.
We also took on board many of the suggestions you have made for our season 2 topics and we are delighted to be launching that now. Season 2 will commence 8th October followed by a monthly offering every 2nd Thursday of the month.
For those that still wish to access the recordings for season 1 or to find out more about season 2 check out the VMA Digital Series webpage here.
Were you aware of the VMA Affiliate program?
The VMA Affiliate Program was put in place to support the entire industry as we work towards recovery and reopening by providing non-members with the opportunity to sample the VMA membership benefits for a trial period of up to 6 months absolutely free.
While it was great to know that 55% of you were aware of the program we recognise we need to do more to ensure all members know of it and encourage a colleague to see if it would be of value to them.
For any member that would like to refer a colleague to the program simply point them to the VMA Affiliate program webpage here. We still have a few months to run with the program and with season 2 of the Digital Series starting now this would be a great time to sample what the VMA has to offer.
Do you find the VMA Who's Who Membership Directory useful?
With 94% of you saying you find the Who's Who Membership Directory somewhat to very useful it reinforces the notion that it is one of the best industry resources available to members listing all our financial members in one place, along with the VMA Annual Report of operations, in one place.
The question we now ask ourselves is what format should future editions come in? While 57% of you want to receive it exclusively in a digital format, 43% wanted it to remain in print or receive both versions.
We will no doubt need to dig a little deeper on this one before we make a call for the 2021 edition.
Are you aware of the website page the VMA developed to provide COVID-19 resources and updates?
Collecting relevant and reputable information on this fast evolving crisis was always going to be a challenge. It was pleasing to know that 58% of you knew of the dedicated webpage we developed to host these resources and updates and that 85% of you found them of use.
We also appreciate the thoughts you have on the types of information we should continue to include.
Remember we are always after any case studies from our members, venues or industry that would be of benefit so please feel free to make a submission via the Covid-19 Updates and Resources page on the VMA website, and keep coming back to check out the new additions.
Are you aware of the Live Entertainment Industry Forum (LEIF) initiative and do you support the VMA's involvement?
Close to 80% of respondents were aware of the LEIF initiative and importantly 89% supported the VMA's involvement. This response has given us reassurance that we have taken the right path on this issue.
The VMA will continue to keep you up to date on all the LEIF progress or feel free to jump onto the LEIF website.
The period ahead will continue to be a challenge for our industry and the VMA Board will continue to make decisions based on providing the best support to our members. To do that effectively we need to understand what is important to you. I again thank you for taking the time to provide this input and ask for that ongoing support when we come back to you on other important issues over the coming months. One of next critical decisions will be centred on the potential for a 2021 Congress and we will be looking for you to provide some guidance on this matter in our next survey.
As a members' Association your feedback ís incredibly important and if you have any further comments to share please feel free to reach out to myself, any of the VMA Board or CEO Michael.
David Krug
Chair, VMA Membership and Marketing Committee