As a VMA Allied Member and supplier of goods and services to our industry, brand positioning opportunities are now available year-round for you.
Do you need a medium that will give you direct access to the VMA membership and wider venue management industry?
Introducing the VMA Supplier Spotlight….
Representing key decision makers across venues of all sizes from stadiums, arenas, performing arts centres, racetracks, showgrounds and convention/exhibition centres; the Supplier Spotlight is a great, cost effective opportunity to reach a targeted audience across Australia, New Zealand and Asia Pacific.
For advertisers aiming to communicate to key decision makers in the sport, entertainment, performing arts, convention, exhibition and meetings industries, the Supplier Spotlight Package offers a targeted opportunity that can reach all levels: from middle management to chief executives, in hundreds of venues that, collectively, host tens of thousands of events attended by millions every year.
Inclusions
Blog Post – provide up to 400 words telling your story to the industry, include images, links and even embed a short video – remember to craft your story to our audience, engage with them and most importantly educate them.
The post sits on the VMA website and remains prominent on the first page of blogs for on average 5 months.
Members eDM – your blog will be featured in the following edition of the VMA fortnightly eDM to members. With close to 1,000 recipients on the mail out list this will ensure your message lands directly in their inbox.
Social Support – the VMA will support your blog with a post on the official VMA Facebook and LinkedIn accounts.
Exclusivity
You will be the exclusive Supplier Spotlight in your edition of the eDM. The VMA will only offer 25 Supplier Spotlight Advertising opportunities per calendar year, and ensure scheduling of them does not result in competitive posts back-to-back, thereby given you clear air in positioning your brand with our members and industry.
Investment
A Supplier Spotlight is only AUD$920 (inc GST).
The opportunity is only available to current VMA Allied Members.
Not a VMA Member? No problems, check out all the benefits of VMA membership here and talk to us to bundle a membership & Supplier Spotlight package that suits your needs.
Collateral Layouts and Audience Reach
*As at 'September 2023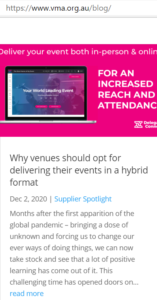 vma.org.au – 2023 page views averaging 3,960 views per month*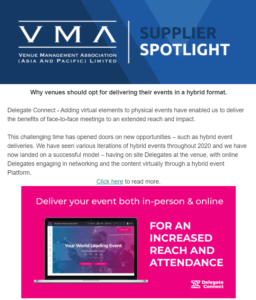 Average members eDM open rates 52% (v industry average 25%) and click thru rates 14% (v industry average 2.8%)*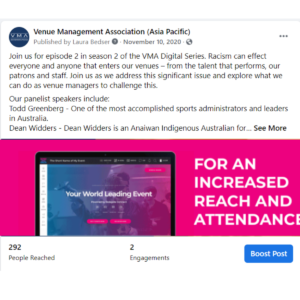 Facebook – 1,400 followers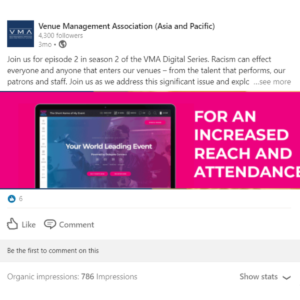 LinkedIn – 5,905 followers*
Terms & Conditions
Must be a current financial member of the VMA to advertise.
The VMA reserves the right to edit or refuse content in the event it contravenes the VMA Members Code of Conduct.
The VMA does not provide any guarantee of sales or member response to the Supplier Spotlight.
Payment in full must be received by the VMA prior to the Supplier Spotlight commencing.
Credit card surcharges and other bank fees: For any payment made via credit card, a processing fee of 1.4% on Visa & Mastercard and 2.4% on American Express will apply. Our surcharge fees are not greater than our cost of acceptance. Any other unexpected costs incurred by VMA in the processing of payments will be charged back to the remitter. Such costs include, but are not limited to, bounced cheques fees and related bank charges.
Contact the VMA HQ Team admin@vma.org.au or call on 1300 001 862 (freecall Australia) or , +61 (0)7 5575 9185 (outside Australia) to secure your advertising.