Accredited Venue Manager (AVM) Certification Program
The VMA's Accredited Venue Manager Certification program now has a year round intake – so getting your step up on the industry is now closer than ever.
As the only industry certification of its kind, the VMA's AVM program recognises venue industry professionals with extensive industry experience, skills and qualifications. 
Steps To Undertake
For those venue industry professionals aspiring to gain their AVM Certification, a rigorous 4-step process is undertaken to ensure you are a true professional in our industry. This process includes:
Step 1:  Documenting your education and experience in the venue management industry. Your attendance at the world-renowned Venue Management School or Leadership Institute, professional development programs and Venue Industry Congress all go towards gaining your required 150 eligibility points.
Step 2:  Providing referees from senior managers within the industry who can attest to your ongoing professionalism and commitment to excellence.
Step 3:  Undertake an assignment, covering overall philosophy of managing venues, personnel and HR, marketing, finances, maintenance, security, event production, food and beverage and more.
Step 4:  VMA Committee approval.
For those successful in gaining this career changing certification you can then proudly use the AVM designation after your name and join this elite group of industry peers that carry this designation.
Moving Forward With Your Accreditation
Venue Managers who successfully complete the AVM process are able to utilise the post-nominal designation of AVM after their name to signify holding this certification. The AVM program also acts as a stepping-stone toward the ultimate venue industry certification – the internationally recognised Certified Venue Executive (CVE) designation.
All applicants must be current members of the Venue Management Association.
"I am really excited to have been awarded the AVM. I would thoroughly recommend it to venue managers as a great way of not just obtaining accreditation, but of reminding ourselves about what is important to us in the way we operate our facilities."
Certified Venue Executive (CVE) Accreditation
Earning your Certified Venue Executive accreditation acknowledges you as well-versed in all areas of venue management, invested in your own professional growth and the growth of others, and dedicated to the advancement of the venue industry as a whole.
Internationally recognised and held as the highest certification attainable in our industry, venue professionals who earn the CVE designation are recognised by those inside and outside the industry, as experts in their profession.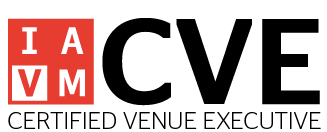 Nick Sautner CVE Recipient
Whilst most of the industry has been dealing with the impacts of COVID-19, another leader within the VMA has achieved the pinnacle industry certification – Certified Venue Executive (CVE).
Eden Park's CEO, Nick Sautner, becomes the 25th VMA Member to be recognised as a CVE.
An industry professional of 20 years, Nick became a Certified Venue Executive (CVE) in May 2020 with the International Association of Venue Managers and is also an Accredited Venue Manager with the VMA, and a graduate of the VMS.
Nick has studied in China, Germany and the USA and holds a bachelor's degree in business and in the Arts, as well as a Master of Business Administration (MBA) from the University of Melbourne. He has won 'Executive of the Year' awards with the Entertainment Venues Association of New Zealand and The Stadium Business Awards in Europe.
"Throughout my career I have remained committed to enhancing my business acumen as well as acquiring further technical skills and knowledge. Achieving the Certified Venue Executive accreditation has become a personal highlight of 2020 and I would encourage anyone with a commitment to the event and stadia industry to consider reaching out to the International Association of Venue Managers to explore how they can further their learning." – Nick Sautner.
The VMA continues to provide opportunities for industry professionals to be recognised for their experience, expertise, and achievements through its certification programs. VMA offers the Accredited Venue Manager (AVM) as well as the IAVM driven CVE programs. For more information on these certifications, visit www.vma.org.au , where you can find FAQ's and a 2 minute points calculator to see if you qualify for these programs.