One of the VMA's founding members, Harvey Lister, has been recognised for a lifetime dedication to tourism and events in the Queen's Birthday Honours list.
Harvey Lister, Chairman and Chief Executive of ASM Global (Asia Pacific), has been appointed a Member of the Order of Australia (AM) in the Queen's Birthday Honours list 2021 for significant service to the arts, tourism, sport and to the venue management and events industries.
For 50 years, Lister has been involved in the development, presentation and management of events spanning sport, the arts, conventions and exhibitions, concerts and general entertainment.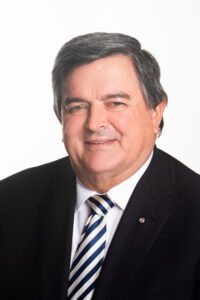 Following the 2019 merger of AEG Facilities and SMG, two of the world's leading venue management and services companies creating the world's largest venue management company, ASM Global, Lister became Chairman and Chief Executive of ASM Global (Asia Pacific), responsible for overseeing ASM Global's portfolio in Australia, New Zealand, India, Asia and the Middle East.
Lister first joined the VMA as a member in 1993 in its formation years and has been active within the Association since then, having been awarded Honorary Life Membership of the Association in 2016 in recognition of his long and dedicated service to the VMA and its Members.
VMA President, Leighton Wood, in acknowledging the Award noted "Harvey is indeed a founding father of what has become a thriving venue and events industry that complements the quality of so many millions of lives in the Asia Pacific region". Adding "On behalf of the entire VMA family we congratulate him on this well deserved recognition".
Describing Lister as a legend of the entertainment and events industry in Australia, ASM Global President and Chief Executive, Ron Bension stated "This extraordinary honour is recognition of Harvey Lister's lifetime dedication to the entertainment and events industry in Australia. His passion, innovation and determination to advance the sector is unmatched.
"We congratulate Harvey on being awarded an AM in the Queen's Birthday Honours list and look forward to his ongoing advocacy and contribution to the industry both in Australia and globally."
Throughout his career, Lister has always willingly shared his extensive knowledge and experience with the industry and generously supported his local communities.
Saying he was humbled by the appointment and thanked his family, friends and colleagues for their support over many years, Lister advised "I would like to express my thanks to the many people who have been there throughout my career for their generosity, loyalty and camaraderie.
"I also wish to pay tribute to the 5,000 employees of our Australian ASM Global family, for the work they do and the role they play in the success of our many venues."