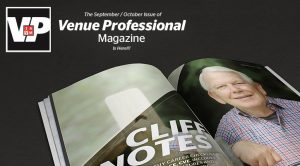 The IAVM's Venue Professional magazine's September/October issue is now available for VMA members to access online. This issue marks the second edition under the new name, previously published as Facility Manager.
Under the VMA / IAVM affiliation agreement all VMA members automatically receive reciprocal membership of the IAVM and access to the new digital format of their hugely popular industry publication.
Relaunched this year under the new name Venue Professional reflects, recognises and describes our members and this global industry that we are all a part of.
This issue features a great story on 2019 VMA Lifetime Achievement Award winner Cliff Wallace, CVE, on his amazing career that spanned decades and led to his being a major international figure in the public assembly venue industry.