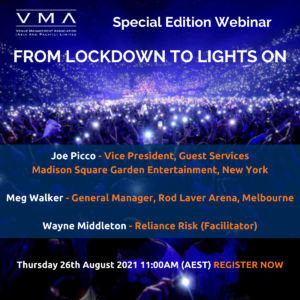 Remember back to 2020 and Australia was leading the world with live sport content with capacity crowds. While that sector of the industry was operational the live performance market was still in the dark. Fast forward 12 months and not much has changed – at least in Australia. But look elsewhere around the globe and you will see a vastly different landscape, with arenas and live music now making a comeback. The lights are going back on and what can we learn.
On June 20, 2021, after 466 days without live music, Foo Fighters reopened New York's iconic Madison Square Garden to a sold-out crowd, marking the first full capacity concert in a New York arena since the start of the pandemic. What did this NEW covid normal look like?
Join us for this special international session as Wayne Middleton talks with special guests Joe Picco, Vice President, Guest Services from New York's own Madison Square Gardens and Meg Walker, GM of Melbourne's Rod Laver Arena, about the return of live music.
Join us Thursday 26th August 2021 – 11.00AM (AEST) – Register Here – Free for VMA members and industry guests.
Check out this short doco "The Day The Music Came Back" of the Foo Fighters long awaited return to New York's iconic Madison Square Gardens.