Leading figures from Australia's venue and entertainment industries are today paying tribute to Michael Gudinski, the larger than life touring promoter who has died suddenly aged 68.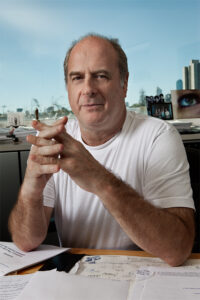 Born to Russian immigrants in 1952, the future success of Michael Gudinski could probably have been predicted back in 1959. At the ripe old age of seven years Michael showed his entrepreneurial side on Caulfield Cup day when he charged race goers for parking spaces in a vacant block next to his home. From there he never looked back, promoting gigs at Melbourne halls for alternative acts like Chain and The Aztecs and developing his first taste for what would be a life long love affair with the music industry.
In 1972 Michael and business partner Ray Evans staged, managed and booked all the entertainment at the legendary new Sunbury Festival. In the same year Michael simultaneously founded Mushroom Records – which was to eventually develop into the largest independent record label in Australian music.
At the same time, Michael developed his interest in the touring industry, promoting his first ever international tour John Mayall and the Bluesbreakers with partner Ray Evans to overwhelming success – all at the age of 20.
For five decades Gudinski championed Australian acts, including Skyhooks, Kylie Minogue, Jimmy Barnes, The Angels, Paul Kelly, The Choirboys and Yothu Yindi and more recently, Eskimo Joe and Evermore.
At the helm of Frontier Touring, Gudinski also brought some of the world's biggest acts to Australia over several decades including Frank Sinatra, The Rolling Stones, Billy Joel, Paul McCartney and more recently Ed Sheeran and Taylor Swift.
Gudinski was an influential figure within our industry, having been a regular presenter at the VMA's annual Asia Pacific Venue Industry Congress. Over the decades he developed close personal relationships with many of our venue managers and delivered shows that were attended by millions of patrons.
Leighton Wood, VMA President reflected "Very few have rivaled Michael Gudinski's record of filling stadia, arenas and festivals and for that the venue industry should be eternally grateful. A human dynamo, I was fortunate to work with Michael in putting together Mushroom's 25th Anniversary Concert at the MCG. Everywhere he went he brought a special energy and will leave a massive void".
Tim Worton CVE, Group Director, Arenas at ASM Global (Asia Pacific) remembered Gudinski, "He was the most influential and colourful figure in the music and live entertainment industries and leaves behind an unmatchable legacy on these industries. He has influenced and enriched so many lives, from people in venues like the ones that my company manages, to so many great artists like Kylie Minogue, Jimmy Barnes and Paul Kelly, to name a few".
Adding, "Our venues won't be the same when Frontier shows roll in without the larger than life man that Michael was – full of energy, passion and a fair bit of craziness, and always guaranteed to be a fun night. I'll miss him terribly. He was an absolute one of a kind".
According to a statement from the Mushroom Group, Gudinski "died peacefully in his sleep at his home in Melbourne", and is survived by his wife, Sue, and their children Matt and Kate and two grandchildren.