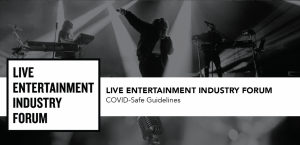 The Live Entertainment Industry Forum (LEIF) is delighted to share its draft COVID-Safe Guidelines and is inviting industry to provide feedback during a consultation period.
Over the last few months, the VMA and many of our members have been activity contributing to these COVID-Safe Guidelines.
On behalf of LEIF, we encourage all of our members to be activity involved in the progress of this draft through their review and feedback.
The consultation period for providing feedback will conclude at 5.00pm on Friday 4th September, 2020.
IMPORTANT TO NOTE: this document is a working draft which has been released for industry and key stakeholder feedback.  The guidelines will be subject to a final legal, risk and health review before official publication.
Feedback should be submitted via email to: info@leif.net.au with subject clearly titled 'Guidelines Feedback' along with your Name and Organisation, i.e. Guidelines Feedback from John Smith, Aus Event Co.
We'd like to take this opportunity to sincerely thank all of the individuals, businesses and organisations who contributed their time and effort into the document, it has been a truly collaborative industry effort.
We look forward to hearing your feedback.
Thank you from both the VMA and LEIF Teams.