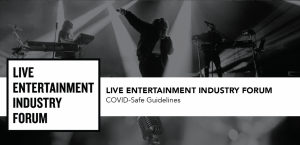 The Live Entertainment Industry Forum (LEIF), which represents Australia's largest live entertainment and sport businesses has today released its COVID-Safe Guidelines.
Formed in June this year as a collective of Australia's biggest promoters of entertainment and sport, Venue Managers, the Venue Management Association and other industry peak bodies – LEIF's mission is to support the COVID-Safe reactivation of events with live audiences across Australia as restrictions are eased.
The LEIF COVID-Safe guidelines have been prepared by a network of industry experts from more than 50 organisations and include industry-wide measures regarding cleaning and sanitisation, crowd management, physical distancing plans, health monitoring and contact tracing.
The guidelines which can be found on the LEIF website: https://leif.net.au/guidelines have been developed in consultation with government and health agencies. Note, these guidelines should be viewed as a guide only to assist industry in their preparation to return to live. Each venue is responsible for developing their own risk management plan relevant to your business and jurisdiction (State/Territory).
VMA President, Leighton Wood noted "the true strength of our industry has been demonstrated during this difficult period. The willingness of our members and industry participants to come together and contribute knowledge and experience in the development of these guidelines is testament to our resolve. The VMA extends their gratitude to the LEIF Executive and all those that have committed time and energy into this endeavour and we look forward to this having a positive impact on our industry reopening".
LEIF has been working hard behind the scenes with governments and health officials to build confidence in the industry's preparedness to operate safely, flexibly and sustainably during its gradual return and the guidelines released today are a comprehensive, flexible, all-of-industry re-opening and risk management strategy to do just that.
Chair of LEIF, James Sutherland said: "LEIF is committed to ensuring the passionate people of the industry have the safest, staged and most considered route back to full employment, which in turn, will deliver significant positive economic outcomes for the community through events which are integral features of healthy and connected communities. These Guidelines have been developed by LEIF to provide guidance, support and a point of reference to live entertainment venues, event promoters and service providers to reactivate live events in a COVID-Safe way."
The LEIF COVID-Safe Guidelines have been released ahead of the Event Summit, taking place on 14th October in Sydney where LEIF will unveil, along with partners EY, a first ever study to assess the economic contribution of the live entertainment industry in Australia. Titled 'The economic cost of COVID-19 on Australia's Live Entertainment Industry' the report will detail the impact of COVID-19 on the sector and the economic outlook for recovery. The Event Summit is a unique one-day conference for the event and experience industry which brings together the industry's most innovative and diligent stakeholders to share best practice experiences, insights, tips and techniques. Industry heavyweights and co-founders of LEIF Geoff Jones, CEO of TEG and Roger Field, President of Live Nation Asia Pacific will join James Sutherland in a Q&A discussing the study and the return to live recovery roadmap. Full details here: https://www.eventsummit.com.au/agenda-2020.
For more information about the Live Entertainment Industry Forum, please visit the website here: www.leif.net.au.