The IAVM's Venue Professional magazine's May/June issue is now available for VMA members to access online.
Under the VMA / IAVM affiliation agreement all VMA members automatically receive reciprocal membership of the IAVM and access to the new digital format of their hugely popular industry publication.
In this edition….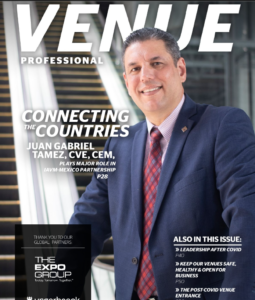 The VMA's own Wayne Middleton CVE, Managing Director of Reliance Risk and current Chair of the Venue Management School, is profiled in CVE Corner.
In addition, a feature on Juan Gabriel Tamez as the cover profile. As Director General/Managing Director of Expo Guadalajara Convention Center, Tamez has also been involved in AMEREF in Mexico and is an outstanding friend to IAVM. Part of his mission is to help grow professional development and the number of CVE designations in his home country. You will want to be sure to read his fascinating life story.
Linda Deckard takes a look at young and veteran venue professionals and just how they entered (or in some cases, fell) into the industry. As always, she offers an entertaining read, and I know you will enjoy the stories of those that Linda interviewed.