The IAVM's Venue Professional magazine's January/February 2023 issue is now available for VMA members to access online.
Under the VMA / IAVM affiliation agreement, all VMA members automatically receive reciprocal membership of the IAVM and access to the new digital format of their hugely popular industry publication.
From the editor: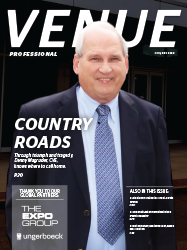 Welcome to 2023! A new year always brings new excitement and resolutions that we all keep throughout the year. Well, don't we?
Here at Venue Professional magazine, we do resolve to continue providing the content you want and the content you need to help you in your career and – who knows – maybe even some stories that are beneficial to you in your personal life.
We kick off the year with one hot issue and a focus on safety and security, just in time for IAVM's GuestX and Academy for Venue Safety & Security. Proof positive is our cover story written by Linda Deckard about the Boch Center's Eric Neill, one of the industry's big names in the world of safety and security. When Eric came recommended for the cover by our own Mark Herrera, we knew we were on to the right profile and I think you will agree after reading Eric's personal story.
While Hurricane Ian is in the rearview mirror, its devastation remains seen throughout many areas of southwest Florida. I took the opportunity to speak to a number of venue managers in that region of the state to find out more about their role before, during, and after Ian. You will come away understanding that our beautiful industry again rises to the occasion when needed.
The popular What's Going Up feature looks at the massive renovation taking place at the iconic Crypto.com Arena (previously STAPLES Center) in Los Angeles. Other features include an update on going cashless at venues, the KC Current Stadium developed by women engineers at Henderson Engineering, the expert commentary from INTIX about the ticketing world, and much, much more.