The IAVM's Venue Professional magazine's July/August issue is now available for VMA members to access online.
Under the VMA / IAVM affiliation agreement all VMA members automatically receive reciprocal membership of the IAVM and access to the new digital format of their hugely popular industry publication.
From the editor: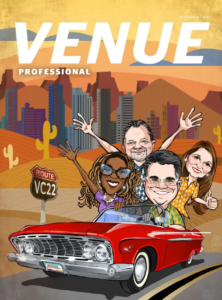 It is 2022, it is Phoenix, and it is VenueConnect, IAVM's flagship conference for the public assembly venue industry. Typically, on Tuesdays you would get a whole newsletter from us, but today, we are giving you even more with the VC22 issue of VP magazine!
We are not going to leave you high and dry (promise it is the first and last play on the summer weather in the Valley of the Sun, a place I love going to no matter which month), so get ready for some serious (and light) reading in the conference issue of Venue Professional magazine.
VenueConnect, of course, is where we welcome the new incoming chair of the board, which means you will want to read Linda Deckard's feature on Adina Erwin, CVE, as she prepares to steer IAVM for the next year. We also interview the recipients of three of the industry's most prestigious awards in the Charles A. McElravy, Joseph J. Anzivino Distinguished Allied, and IAVM Foundation Legacy.
There is plenty of reading to support VenueConnect as well. Among those:
• Concessions technology
• Design trends
• Digital ticketing
• Event security
• What's Going Up
• Solar at Audi Field
All the sector columns are ready for you as are other ongoing features you have come to expect.
Finally, a VenueConnect issue of Venue Professional just is not complete without the much-anticipated caricature cover of the magazine. Have a look, have a laugh, and have a read. It is yours to enjoy!