The IAVM's Venue Professional magazine's March/April issue is now available for VMA members to access online.
Under the VMA / IAVM affiliation agreement all VMA members automatically receive reciprocal membership of the IAVM and access to the new digital format of their hugely popular industry publication.
in this edition: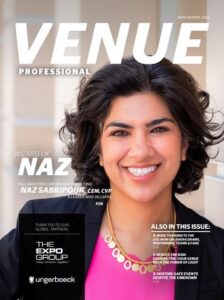 We delve into Naz Sabripour and explore her ideas to help push the agenda to make our association, industry, and events more diverse and inclusive. Naz made a huge impact whilst on the Diversity & Inclusive Leadership Committee and she continues to do so in her role with the Pasadena Convention Center.
Throughout this issue you will find articles that we know will make an impact on your venue and your business. In addition to sharing Naz's story, the What's Going Up feature spotlights the new home of the NHL New York Islanders in UBS Arena. Truly designed for top talent, catch every detail that went into opening this splashy new arena.
There is a range of other feature stories which include the opening of sportsbook wagering at Capital One Arena in Washington, D.C., the first arena to offer this new option for guests who want to place a wager or two. Little Caesars Arena in Detroit also gets our love and recognition for being named KultureCity's Sensory Inclusive Venue of the Year for 2021.
There is much, much more contained within the pages, so we will let you turn your attention to the hot off the digital press Venue Professional!