The IAVM's Venue Professional magazine's November/Decemberissue is now available for VMA members to access online.
Under the VMA / IAVM affiliation agreement all VMA members automatically receive reciprocal membership of the IAVM and access to the new digital format of their hugely popular industry publication.
in this edition: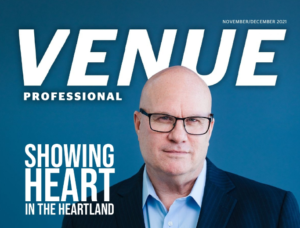 We look back on the 20-year anniversary of September 11, 2001, which forever changed the United States and the world. Included in the coverage is a series of articles written first-person by IAVM members about where they were on that terrible morning – many stuck in Miami on the last day of that year's Arena Management Conference. There is also coverage about the current impact from 9/11 on our member venues, as well as a look into the future and how venues will continue to operate to provide the ultimate safety and security for their guests.
There is much more to read as we visit with Brett Mitchell, CVE, who leads the Overland Park (KS) Convention Center and also knows a thing or two about safety and security as his venue was one of the first two to work through the Safe Venues portal. Brett has a very interesting career story, and it was a pleasure to sit down with him over the summer at VenueConnect to capture this leader's vision.
Esports continues to rock, and we have an outstanding feature on that including several pieces of data that demonstrate just how popular the sport is and what it could mean if your venue becomes a site for these gamers.
We have all the great columns you are familiar with, as well as a spotlight on Calgary's BMO Centre in What's Going Up.