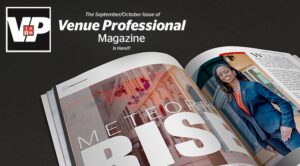 The IAVM's Venue Professional magazine's September/October issue is now available for VMA members to access online.
Under the VMA / IAVM affiliation agreement all VMA members automatically receive reciprocal membership of the IAVM and access to the new digital format of their hugely popular industry publication.
in this edition:
This issue is proud to spotlight one of the industry's relatively youngest movers and shakers with a cover profile chronicling Zakiya Smith-Dore, MBA, CVP. In fact, Zakiya made the move from the University of Florida Performing Arts in Gainesville to relocate across the country to San Diego Theatres, where she is the assistant director of operations. See what we mean about moving and shaking? Zakiya's story, as told by Linda Deckard, is one of pursuit, ambition, drive, and a deep love for the industry that she has skyrocketed in.
The issue also includes a great article written by our own Rohit Maini, Qudos Bank Arena's Event Services Manager, on how QBA has scaled Mt Midoriyama in a post COVID era.
We have been diligent over the past several issues to keep our members abreast of all intervals of the COVID-19 pandemic, from inception through the course of the virus, and on toward how venues are reopening. You will again find features in this issue that are sure to be useful to you regardless of what state you are in or what juncture of reopening you might be.
Omaha, Nebraska, is the home – or will be the home – of Steelhouse Omaha, when it opens in two years. We have an early look at the crown jewel that will help downtown Omaha boom even more. To say that the venue is gorgeous is an understatement. We let pictures help tell this story.
Other features include diverse security teams, an in-depth look at the world convention centers and their performance around the globe, and a feature called "Anyone Know How to Fly a Plane?" We'll just let you read and not spoil the surprise.
All this and more awaits your eager eyes, so go ahead and dig in. Access here