The IAVM's Venue Professional magazine's May/June 2023 issue is now available for VMA members to access online.
Under the VMA / IAVM affiliation agreement, all VMA members automatically receive reciprocal membership of the IAVM and access to the new digital format of their hugely popular industry publication.
From the editor: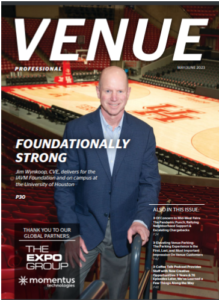 Jim Wynkoop, CVE, has worn many hats throughout his distinguished career. He has also worked at a number of venue types and is currently at the University of Houston, overseeing athletic facilities as the school prepares to become a member of the Big 12 conference. He also serves as Chair of the IAVM Foundation Board of Trustees. Read about his interesting story in the May/June issue of Venue Professionalmagazine.
The issue is complete with several feature stories that will resonate, including Preparing for a Post-Pandemic Workplace, Creating a Podcast, Electric Vehicles, Immersive Experiences through Art,                                                                            Inclusive Leadership Strategies, and more.
Linda Deckard reports from the Midwest Fairs meeting to provide an update on the Fairgrounds sector and what lies ahead. We are proud to also share that Linda was recognized at the meeting for her meritorious service in covering the fairgrounds world dating back to her days at Amusement Business.
Our sector section is also full of the best stories both personal and professional sure to get your reading attention.