It Pays To Be In Control of Your Events
Are you drowning in a sea of sticky notes? Or gridlocked by spreadsheets? Are your office walls a patchwork of printouts? And your reports individually handcrafted? Ever cancelled a meeting because a room was double booked? Had to remind a forgetful florist when to deliver the table arrangement? Perhaps pastries were missed from an invoice? Or no-one arranged for the grand piano to be tuned?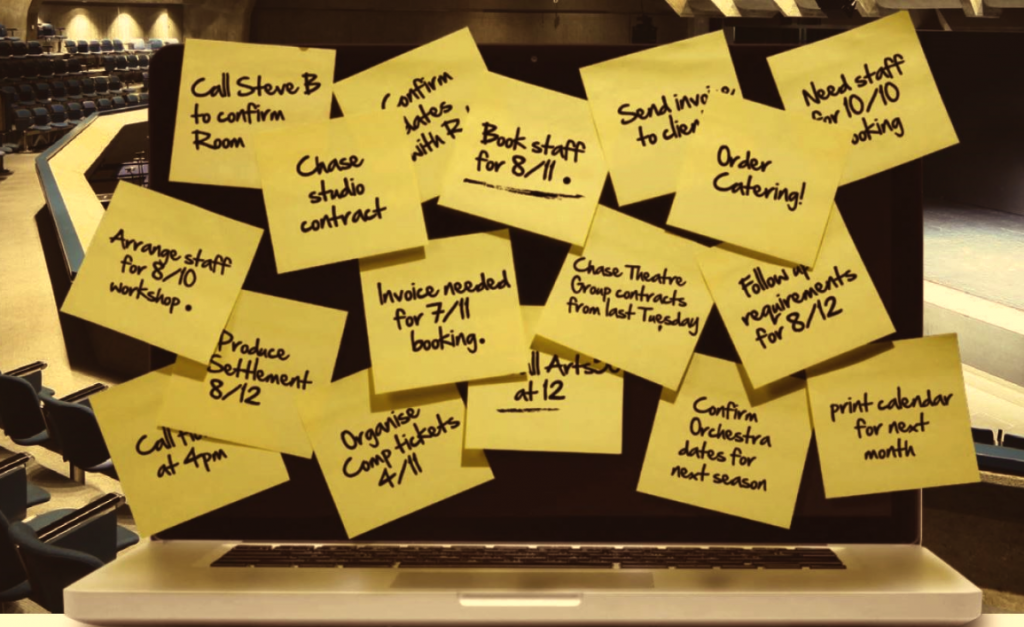 If you are never certain you have up to date information for your events, facilities, finance and programming teams then a centralised venue and event management system can help.
ArtifaxEvent is a venue and event management system that has the capability needed to manage every detail of an event, as well as gain the necessary perspective to view the entire picture.
Why Artifax?   Artifax has more than thirty years' experience in providing specialist software and services to venue and event managers. Our latest products, ArtifaxEvent and ArtifaxAgora, are accessible via a web-browser. Our global community of hundreds of like-minded organisations—thousands of individual users and venues—is supported by our friendly customer services team and distributors who understand the challenges you face. Plus we are allied members of the VMA!
What Can You Do with ArtifaxEvent?   ArtifaxEvent is designed to help you manage people, organisations, rooms, resources, enquiries and events efficiently. A central drag-and-drop graphical calendar is at the heart of the application. Configure unlimited colour-coded event statuses, types and activities to understand what's happening in your spaces at a glance. Create your own calendar filters and use them in reports, as well as publishing them for use in other calendar applications and your websites. Schedule reports to be emailed automatically. Built-in booking wizards, plus user-definable templates and task-driven workflows, streamline your business processes. Unlimited custom fields and context-sensitive/ad-hoc user-defined forms allow you to tailor the application for your organisation. Apply complex security rules to protect your data and documents.
What About the Technology?   Written from scratch in PHP, HTML, CSS3, JavaScript and AJAX, ArtifaxEvent is powered by Microsoft SQL Server and Microsoft Internet Information Services. A published API allows straightforward integrations with ticketing, accounting and other systems, plus ArtifaxAgora and our Excel Toolbar, which allows users to access ArtifaxEvent data directly from within Excel.
Who Uses ArtifaxEvent?  American Museum of Natural History ▪ Auckland Museum ▪ BBC Proms, London ▪ Brisbane Powerhouse ▪ Cairns Regional Council ▪ Global Village, Dubai ▪ Houses of Parliament, London ▪ London Transport Museum ▪ Melbourne Recital Centre ▪ National Portrait Gallery, Australia ▪ Perth Concert Hall ▪ Royal Albert Hall, London ▪ Southbank Centre, London ▪ St Paul's Cathedral, London ▪ Sydney Theatre Company ▪ Toronto International Film Festival and many more around the world.
For more information, or to arrange an online demo, please contact us at sales@artifax.com.au

[DISPLAY_ULTIMATE_SOCIAL_ICONS]