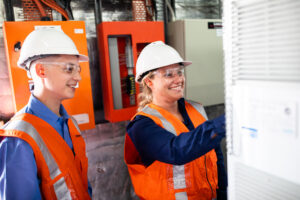 The VMA is delighted to introduce Grosvenor Engineering Group, one of our key event sponsors of the 2021 Asia Pacific Venue Industry Congress. Come and meet the team on the trade floor at the Congress.
About Grosvenor….
Ensure the comfort and safety of people, without the disruption of services at your venue
It is essential that venues and other hospitality spaces where large groups of people gather, are safe, operate efficiently and that there is no disruption of service, especially during an event.  The overall guest experience is paramount to the reputation of your venue, as the reputation and brand can be impacted if people have an unpleasant experience.  Proactive maintenance of HVAC, Fire and Electrical assets can help.
Ensure Business Continuity
Power Supply reliability: We can help you with your commercial switchboard and metering requirements, Uninterruptible Power Supply (UPS) and battery service & maintenance.
Comfort for all: Proactive regular maintenance of HVAC systems ensures consistent and comfortable temperatures for all venue occupants.
Keep People Safe
Protect people and property: By assessing your venue in terms of occupancy, operation and fire risk, we design, install and commission automatic sprinkler systems, fire extinguishers, fire detection and alarm systems to meet relevant legislation and Australian Standards.
Light the way: When it comes to emergencies and the need for crowd flow when evacuating your venue safely, we can provide a comprehensive site risk assessment and recommend the correct placement for exit and emergency lighting.
Optimise Your Operations
Improve performance of operational assets: We can provide a BMS solution to improve visibility over the performance of a property's assets, delivering comfort and energy efficiency.
LED-ing solutions: Improving the efficiency of lighting can be one of the simplest and cost effective strategies for venues seeking to reduce energy consumption. Our electrical team can replace and clean lamps, refurbish and upgrade lighting systems to LED lighting.
At Grosvenor, we have over 25 years' experience providing end-to-end solutions across Australia to many large hospitality facilities.
Learn More: www.gegroup.com.au