The VMA is once again delighted to announce our support for the 2020 EVANZ Awards.
As part of our long term commitment to supporting the New Zealand venue industry and our partnership with industry association EVANZ the VMA are proud sponsors of the 2020 Leader of the Year Award.
Nominees for this award may be General Managers, CEOs, Venue Managers etc. It is envisioned that the nominee would be in a senior management position with substantial influence over the strategies and operational direction of the venue or organisation.
For 2020, the EVANZ Awards will be very different as we present awards in just three categories, reflecting the special efforts individuals and venues/businesses have made to get through this extraordinary time.
Awards will be presented across 3 new categories: Leader of the Year, Team Member of the Year and an Innovation Award.
Nominations are now OPEN for the 2020 EVANZ Awards. Full details and nomination form HERE.
Closing date for submissions, 4pm 23rd October 2020.
Winners announced at a special Awards Evening on Tuesday 24th November, Claudelands Hamilton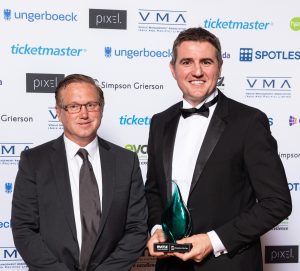 2019 Award Winner Nick Saunter CVE (r) pictured with VMA President Steve Harper CVE.