VITEC IP-based technology solutions enable stadiums, arenas and a range of sporting venues to deliver a dynamic mix of live footage and action replay to TV screens and mobile devices across the connected campus; whether you're looking to integrate live TV with digital signage announcements, advertising and scores, or create a personalised viewing experience for guests in VIP and hospitality areas.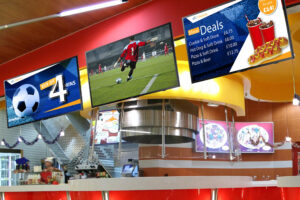 Stadiums and venues around the world recognise that success hinges on more than just what happens on the pitch. More than ever, fan engagement within each facility is a critical part of the overall experience as well as return on investment – and video is playing an increasingly vital role.
AV is a crucial element that can span every facet of the fan experience. Starting from the venue entrance, IPTV-driven screens are used to reinforce branding, engage with arriving supporters and create a buzz. In central areas, displays provide visitors with information about seating, other facilities, services and amenities. These signs are often dynamically managed to cater for unique events or special offers, as well as for contingencies such as seating section, exit changes, or emergency alerts. In bars and restaurants, digital signage screens help to entice spending – alongside live video that ensures fans don't miss a second of the action.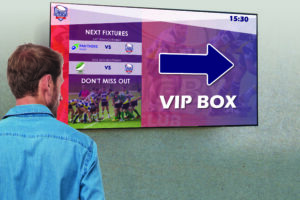 Video distribution within stadiums is relatively mature and the biggest driver is the shift towards an all IP infrastructure, with the challenge of a more broadly connected 'campus' that might comprise a stadium, conference facilities, press room, on-site restaurants and a hotel. VITEC understands the unique technical and operational requirements for successfully operating an IPTV network in sports and entertainment venues. Our IPTV distribution and digital signage solutions are designed to accommodate the unique demands of any venue and provides high-quality television viewing, powerful system administration tools, along with sophisticated video streaming capabilities.
VITEC's stadium and sporting venue clients across ANZ include, CBUS Super Stadium, Eden Park, Forsyth Barr Stadium, Metricon Stadium, Queensland County Bank Stadium, The Bend Motorsport Park, The Gabba, and Royal Randwick and Rosehill Racecourses, against a global reference list of prestigious venues.
Read more about VITEC IPTV, video streaming and digital solutions for stadiums and arenas.