Introducing this year's Venue Management School (VMS) international guest instructor Adam Cook CVE, a distinguished member of the IAVM faculty. With roots in event planning and a wealth of industry knowledge, Adam is set to lead Session 116 – Event Operations Planning, offering a comprehensive understanding of the critical planning elements that drive event success.
In this session, Adam will guide you through event planning as a venue manager collaborating with event hirers to bring their visions to life. As each event is unique, with specific requirements, he'll delve into key considerations like type, scope, size, and complexity of the event. The aim of this session is to give you a framework for establishing the event planning process and producing your own unique event plan.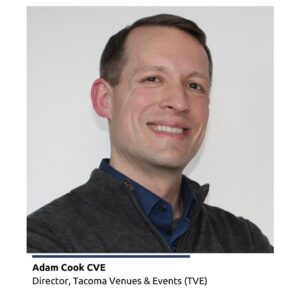 As the countdown begins for Adam to join us at VMS next month, he took a moment to chat with us about his own VMS experience and share a sneak peek into his upcoming session.
VMA: How did you first become involved in the venue management industry?
Adam: Like many, I somewhat fell into the industry. I joined the Student Activities Board in college and fell in love with event planning.  After graduating, I took every odd job I could find, including as an elf in Santa's Village and line-staff at Gillette Stadium, until I found my first full-time job and started working my way up.
VMA: What subjects are you teaching at VMS this year?
Adam: I'm looking forward to teaching Session 116 – Event Operations Planning along with joining a few town halls for year 2 and LI.  I came up in the industry on the Event management side and always enjoy getting a chance to discuss contemporary event operations with others.
VMA: What can your students expect to learn in your session and what will be their key takeaways?
Adam: At the end of the course, my hope is that everyone comes away with an understanding of why good event planning is so critical to the success of an event and how to develop a robust plan that addresses not just the production, but the critical legal, political, environmental, and economic factors.
VMA: What are you looking forward to as the IAVM Guest Instructor?
Adam: The reputation of the VMA Venue Management School and its faculty and students is outstanding. I'm looking forward to engaging with everyone to build long-term connections and friendships and to learning all of the school's techniques and ideas I can take back in support of IAVM's VMS.
VMA: What would you say to anyone considering attending the Venue Management School this year?
Adam: VMS has been such a critical part of my career, from my days as a student, through to being an instructor the past several years. The connections and friendships I made through the school have been instrumental in my personal growth and development. I highly encourage anyone looking to take the next step in their professional path to join us at VMS.
In addition to Adam's compelling session, we are looking forward to the international dinner scheduled for Wednesday night. This provides a great opportunity to come together and gain an inside perspective on the latest developments in the US venue industry while discussing our international industry commonalities, as well as our differences, and comparing current trends.
Join us at this year's VMS for an opportunity to learn from global industry experts like Adam Cook CVE, whose expertise is set to transform your understanding of event planning. Seize this chance to build lasting connections, gain invaluable knowledge, and propel your career forward. With only four spots remaining for VMS this year now is the time to secure your spot to avoid waiting another year.