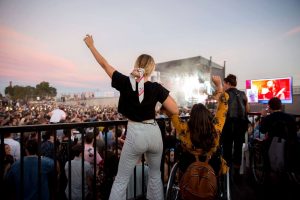 With multiple Federal and State grants now available, Get Skilled Access is offering to assist you with your upcoming grant application to get Australian live entertainment back in the safest way.
The team at Get Skilled Access are specialists in disability, accessibility and inclusion consulting, founded by wheelchair tennis grand slam champ & Paralympian gold medallist Dylan Alcott OAM.  The mission is to help people understand disability by driving organisations to be more inclusive by improving accessibility and to set a new standard in the live event industry.
In almost all grant applications an event, festival and venue's accessibility strategy need to be a part of the application.  If done right, it can be a huge competitive advantage in securing funds.
The team at Get Skilled Access are here to offer hands-on assistance at no extra costs – they will work with you to provide:
A consultation session on how to tailor your accessibility strategy to your event and organisation
A review of your current accessibility strategy
Adaptations to your COVID-Safe strategy to ensure accessibility is incorporated
Completion of supporting documents, including Arts Access forms and letters of support
Official quotes and hour breakdowns to include in budgets
Partnership opportunity for execution
Get Skilled Access has proven experience in the entertainment space. Working with some of the biggest live entertainment businesses in Australia including Live Nation, Ticketmaster, Ability Fest, Australian Open, Melbourne Cricket Club/MCG and ASM Global. The team will build solutions for all facets of the business including:
Physical and built environment: Including permanent and temporary upgrades and audits
User experience testing: Including ticketing integrations and digital audits
Accessible communications: Including communications review and development of accessible communications and site maps
Audio & visual services: Including interpreting services
Access Liaison: Hands on disability support including onsite staff to care for patrons
Accessibility & Inclusion training: Building staff, security, customer service teams confidence and capabilities in providing positive experiences for people with disability or accessibility needs
Budgets: How to plan and execute accessibility outputs
Book in a session with us today by contacting michelle@getskilledaccess.com.au or calling +61 408 026 446