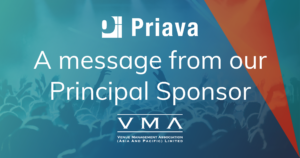 The countdown is on for the 2021 Asia-Pacific Venue Industry Congress. As Principal Sponsor, we are excited to welcome delegates – both in-person and online – to each of the events, and we are looking forward to kicking off the program in Brisbane next week.
There is no doubt that the last year has been a challenging one. The impact of the global pandemic has been widespread, and it continues to have a significant effect on so many facets of our lives, including but certainly not limited to venues and events worldwide. This year, more than any other year, the Congress will provide a unique opportunity to join forces with our industry peers to find new and innovative ways to drive the industry forward. In particular, we are looking forward to reconnecting with delegates to share key learnings from our pandemic experiences and work together to find creative ways of delivering events in "new normal" circumstances.
As well as reconnecting with delegates, we are excited to share details about recent developments at Priava because a lot has changed since we last met with VMA members. Over the past year, we have reviewed and improved every aspect of our business. We have expanded our Product Development Team, which has allowed us to deliver new functionality, including a premium ticketing solution, customisable dashboards, floor planning and a brand-new mobile application. We have also developed several integrations with 3rd party applications like accounting packages, eSignature solutions, CRM's and more.
At the Congress, we will be sharing exclusive details about Priava Premium Ticketing, set to launch in July 2021. The self-service system is delivered via a digital distribution platform. It allows users to create their own fully customisable ticketing portal to manage corporate hospitality packages and premium or VIP suites at match-day events, concerts and other major events at stadiums, arenas and theatres. As vaccination programs gain momentum across the globe and many nations prepare to ease restrictions, there is increasing demand for large-scale public events, and this ticketing solution is the key to allow venues to manage their events safely and optimise profitability.
Whether you are joining us online or in person, our team is so excited to meet with you in Brisbane, Sydney, Melbourne and Auckland. Please be sure to visit us in the trade areas at each of the events for more details about our financial incentive programs for VMA members and more information about our ticketing solution.
The Priava Team