Leading cleaning, hygiene, and waste management company, Quayclean Australia, has taken active steps in support of cleaner and greener lifestyles by pledging a company-wide commitment to six United Nations Sustainable Development Goals, and undertaking to be a carbon neutral business in five years.
Whilst Quayclean supports all 17 UN SDG's, the company has identified six initial Goals for implementation and action which are aligned and relevant to its core operations.
The UN SDG's with immediate actions are:
Goal #3: Good Health & Wellbeing – Developing in-depth Employee Value Proposition and Wellness programs
Goal #4: Quality Education – Quay Academy delivering quality education and leadership programs
Goal #5: Gender Equality – Committing to 50/50 gender equality
Goal #6: Clean Water & Sanitation – Identifying water reuse capability on relevant equipment and committing to alleviating water pollution
Goal #10: Reduced Inequalities – Preparing Quayclean's Diversity, Inclusion & Belonging Strategy
Goal # 13: Climate Action – Implementing and reporting on sustainable waste management strategies throughout client sites, raising awareness and providing education to staff and clients on sustainable waste management and impact reduction
Quayclean is responsible for the majority of Australia's biggest stadia including Marvel Stadium, Adelaide Oval, the Gabba, GIO Stadium, Metricon Stadium, Cbus Super Stadium, GIANTS Stadium, the Sydney Cricket Ground, the new Allianz Stadium, major events such as the Sydney Royal Easter Show, plus iconic sites such as the Sydney Opera House.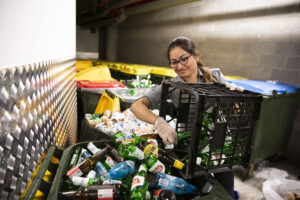 Quayclean has also appointed two Sustainability Managers to assist the company and its customers on the journey towards making a positive environmental impact.
Quayclean Chief Executive, Mark Piwkowski, said the company continues to develop and implement practices at customer venues which deliver environmental benefits. "We have, and will continue, to work in partnership with our clients to achieve sustainable waste management practices, provide sustainable consumables, and update technologies and practices to reduce use of chemicals, energy and water," he said. "We are seeing great results coming out of large venues such as Marvel Stadium, Sydney Opera House and Venues Canberra, with tonnes of separated e-waste, glass and food waste influencing high recycling rates," said Piwkowski.
"Since introducing the Container Deposit Scheme at Venues Canberra last year, 140,000 bottles have been recycled, and for the month of May, 10,000 tonnes of food waste was successfully recycled at the Sydney Opera House.
"Last April, over 2000 kgs of e-waste was diverted from landfill at Marvel Stadium, and over 22,000 kgs of glass was recycled over a three month period from Marvel Stadium and Melbourne Racing Club," he said.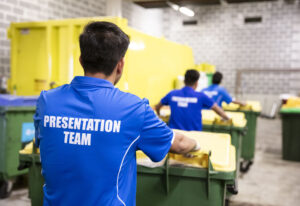 The UN SDG's is just one of several company initiatives.
Quayclean recently launched the 2022 Quay Academy Leadership development program which follows last year's success of 33 participants completing the course. The program is designed to enhance team performance, build an inspiring leadership group, support the company's growth aspirations, and deliver a company legacy for future generations.
The company is also sponsoring the VMA's Mentor Program for the next three years. The initiative is designed to foster the development of young and emerging industry workers and provide them with unique learning opportunities to assist with their personal professional growth.
Visit: quayclean.com.au