The VMA's Venue Industry Awards are the premier Awards program in our industry for the Asia-Pacific region. Since 2010 the Awards have been showcasing the best of the venue industry's talent across a number of categories:
Venue Professional of the Year
Allied Professional of the Year, and
Young Achiever of the Year for our under 30's
In 2022, the VMA was excited to announce, MCEC's Maxine McIntyre, as the Winner of the Venue Professional of the Year Award.
Maxine McIntyre, Event Planner at MCEC won the accolade for her pivotal role in delivering COVIDSafe events throughout the pandemic. Upon her reflection of her successful win, Maxine shares some of her thoughts, advice and aspirations on the Venue Industry Awards.
What has it meant to you personally to win the award?
Maxine: Winning Venue Professional of the Year was a massive honour after two years of uncertainty and lockdowns. This was a time when we were limited in doing what we love in events. We couldn't interact with people and create amazing experiences as normal.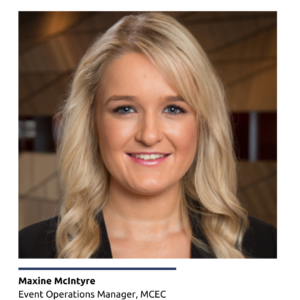 It was such a highlight to be recognised for doing COVIDSafe work that helped the industry. It's something I take great pride in. Plus, winning the award marked the achievement of a massive personal career goal.
What did it mean to you professionally to win the award?
Maxine: This award win is very special for myself and my organisation. I have been at MCEC for six years building on my experience as an Event Planner. I work hard to reassure event organisers and find innovative solutions for their dream event. And this award was the icing on the cake.  
I've gone full circle as I was nominated for Young Venue Professional of the Year in 2018. So, after all these years, it's great to be recognised again and to win while representing MCEC.
What would you say to your peers to encourage them to enter the award?
Maxine: The process of entering the award involved getting get feedback from my peers and customers. It was a valuable deep dive into what people actually think.
After a while in the industry, you think you know how you're doing. But the VMA Industry Award certainly offers a great opportunity. I got out of my comfort zone to truly reflect and take stock of where I was at. 
It was heart-warming to gather all this great feedback. Meanwhile, I connected with the people I work with even more than I already had.
The award is a great addition to your brand as an events professional. And it inspires you to do more things you wouldn't normally do.
Why should you nominate someone for the VMA Industry Awards?
Our industry is unique and draws to it some incredible individuals who are passionate about what they do. From memorable moments for their patrons to iconic events that form part of our nation's culture and history, these are a rare breed and we love to celebrate them.
In nominating for the Venue Industry Awards, you are given the opportunity to recognise leaders, game changers and innovators in our business and to award them based on their achievements. The Awards recognise those engaged in the venue management industry who are achieving great results in their career and making a wider contribution to the industry as a whole.
Do you know someone who deserves to be recognised and acknowledged as one of the best of the venue industry's talent? GET YOUR NOMINATION READY!
Nomination opens on Tuesday, 31 January 2023.
Hear more about Maxine's story here:
MCEC's Maxine McIntyre, Winner of Venue Professional of the Year 2022 – https://www.youtube.com/embed/jAksvXekTPM