For those VMA members not on the Live Entertainment Industry Forum newsletter list please see the latest update from LEIF Chair James Sutherland. The VMA continues to play our role in supporting this industry-wide initiative to raise awareness of our industry's flight with key decision-makers in Government. 
LEIF Update #2
Welcome to the second Live Entertainment Industry Forum (LEIF) newsletter which marks the launch of our draft industry COVID-Safe guidelines.
Our thoughts remain with our colleagues in Victoria and we are pleased to see improving signs there.
If the past few months have taught us anything, it is that the future for the live entertainment industry will not be a simple return to full crowds and venues.
That is why this month's launch of the COVID-Safe industry guidelines is an important development for the industry.
We've also continued to engage with all levels of government, lobbying hard for the extension of JobKeeper, which has been forthcoming, and other government assistance, which has come to pass with the $75 million Restart Investment to Sustain and Expand (RISE) Fund. Here is a quick update below: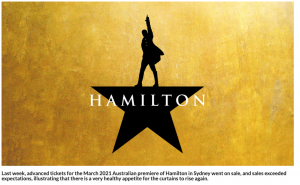 RETURN OF LIVE ENTERTAINMENT
We've seen world-class boxing events in Townsville, the winter football codes continuing around the country, with States battling it out for the holy grail, the Grand Final, and some smaller live music venues are playing it safe and finding their feet as The Australian reported.
There are also positive signs among our industry's many and varied audiences about their desire to get back out and see events. Last week, advanced tickets for the March 2021 Australian premiere of Hamilton in Sydney went on sale, and sales exceeded expectations, illustrating that there is a very healthy appetite for the curtains to rise again.
The situation remains significantly different in Victoria and we'll know more about the state's path out of coronavirus restrictions by the end of this weekend. Overall, we are confident that our guidelines mentioned below will provide the framework for the return of events and crowds when the time is right.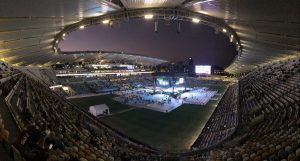 A return to live for boxing fans as Tim Tszyu and Jeff Horn battled it out last week for the WBO Global & IBF Australasian Super Welterweight title at Queensland's Country Bank Stadium in Townsville, to more than 10,000 fans.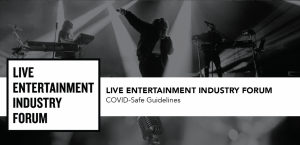 LEIF'S DRAFT COVID-SAFE GUIDELINES
LEIF's draft COVID-Safe guidelines – all 163 pages of them – have been sent out to industry and key stakeholders for feedback, with the consultation period closing this Friday, 4th September.
The draft guidelines represent a huge collaborative effort from our colleagues all over Australia. It is a detailed and flexible piece of work that provides an overarching set of principles for dealing with the ever-changing response to the COVID-19 pandemic and the requirements of the Federal, State and Territory governments.
The document has been developed to provide guidance, support and a reference for venues, promoters and service providers, and will help you identify and minimise risks specific to our industry. Importantly, they give Governments and Health Authorities confidence that we are doing all we can to ensure the safety of our customers and our staff.
To download and review the guidelines here – please provide any feedback on the draft guidelines to info@leif.net.au.
WHERE TO FIND HELP
There is a valuable new addition to the LEIF website here which details the varying Government assistance packages available around the country. It is a great place to start if you don't know where to access help.
NEW CHALLENGE FOR OUR CHAIR
Lastly, we must acknowledge the big career news for LEIF's inaugural Chair, James Sutherland, who will take up the CEO of Golf Australia in October.
James has committed to support the transition in leadership at LEIF over the coming months which will build on the foundations that we've established as a unified voice for our industry.
We wish him all the best in his new role and thank him for his contribution to and leadership of the LEIF cause to date. James will remain involved in LEIF for the time being, and this circumstance will give the LEIF Executive an opportunity to assess the organisation's progress and future direction. We will be sure to keep you informed.
Thank you for your ongoing support. On behalf of the LEIF executive, and everyone who has contributed along the way, stay safe, follow the appropriate health guidelines and we will see you back at a live sporting or entertainment event soon.
Best wishes
The LEIF Team