The IAVM's Venue Professional magazine's September/October issue is now available for VMA members to access online.
Under the VMA / IAVM affiliation agreement all VMA members automatically receive reciprocal membership of the IAVM and access to the new digital format of their hugely popular industry publication.
Make sure you check the article on Top Trends in Corporate Suites and VIP Stadium Experiences by VMA Member Damian Olsen, Account Executive at Ungerboeck.
From the editor: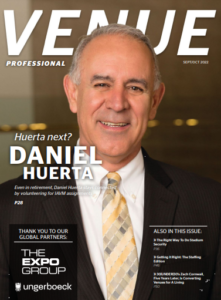 As Acrisure Arena prepares to open, we have its southern California story in the What's Going Up feature. The Oak View Group venue opens this December in greater Palm Springs and is situated along 43 acres off Interstate 10 with spectacular desert mountain views. The 11,000-plus seat venue is also the future home of the American Hockey League Coachella Valley Firebirds.
Corporate suites and VIP experiences have changed over the years, and you will want to be sure to read two features in this issue that talk about what patrons are looking for in those premium experiences.
Staffing is another hot topic these days as venues return to full staffs, full events, and full operations. There are ways to get this done right that can save you money and time.
Smart technology in restrooms is yet another thriving business, and we dive deep – well, as deep as one wants to dive while in a restroom – into such technology within venue restrooms. Much like the first experience guests have when parking, guests often make a decision to return or not return to a venue based on the cleanliness and sanitary conditions found in restrooms.