The IAVM's Venue Professional magazine's September 2023 issue is now available for VMA members to access online.
Under the VMA / IAVM affiliation agreement, all VMA Members automatically receive reciprocal membership of the IAVM and access to the new digital format of their hugely popular industry publication.
In this issue, be sure to check out a great article on 'Reducing Risk – Protecting Your Systems & Data from Common Security Threats' by VMA Member and IVSS instructor Nic Boling.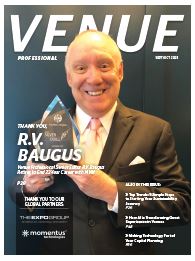 This month's feature stories include:
Venue Professional Senior Editor R.V. Baugus Retires to End 22-Year Career with IAVM
Top Trends: 5 Simple Steps to Starting Your Sustainability Journey
How AI is Transforming Guest Experiences in Venues
Making Technology Part of Your Capital Planning