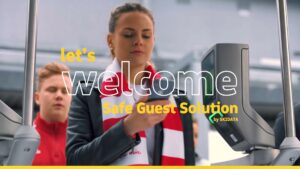 BACK TO BUSINESS SUPPLIER – SKIDATA
Let's welcome fans again!
COVID brought uncertainty not only in our daily lives but also venue operations. With patrons hesitant to come back, and ever-changing rules, SKIDATA is helping numerous venues worldwide to navigate towards new normal bringing back confidence to enjoy events at full scale again.
SKIDATA Safe Guest Solution enables organisers to restart events in a COVID-safe way. Completely contactless, it enables a fully digital and personal journey for attendees to events, focusing on staff, contractors, athletes, press and more. Some recognised names in the event industry using SKIDATA Safe Guest Solution are Allianz Arena, Formula E Championships and FIS, the International Skiing Association covering the whole 2020-2021 tournament season.
SKIDATA, global leader in access management solutions for car and people access, offers solutions with open architecture to integrate with third party partners, ticketing partners, health authorities, testing laboratories and authentication partners. Data management is key to successful and safe customer experience.
Key features include online accreditation, incorporating document verification and messaging. Integrations with testing facilities and other data sources can be implemented to generate electronic tickets for validated access such as vaccination status, COVID results, etc. These e-tickets are then used at entry points and/or strategically placed routing points to provide accurate tracking of visitors upon arrival and during the event. Direct visitor contact can be also achieved using Chatbot/messaging services.
With solutions ensuring a high level of performance, security and safety by incorporating data-driven COVID-safe practices, SKIDATA can welcome back events in Australia without uncertainty, but with maximum crowd capacity.
Contact Information