BACK TO BUSINESS SUPPLIER – SICO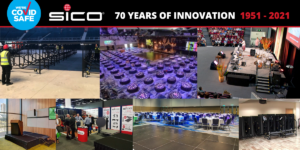 Knowing your business has always been our business, and now that matters more than ever.
Most of us would assume that a company founded in 1951 would have just about seen it all.
Yet, here we are seventy years later, and SICO® is here to support you, our loyal and valued customers, through one of the most challenging times we have ever experienced in our industry.
We're incredibly proud to be the go-to experts for advice and knowledge for our customers in all areas of portable performance staging solutions. Our meeting and events range of furniture continue to be essential in providing innovative solutions for truly flexible meeting spaces.
Our entire team is vaccinated and practicing COVID safe measures. From our delivery drivers, factory staff, and sales and customer support team, we're ready to help you move forward as we get back to business – bigger and better than ever.
Thank you for your continued support.
Best Regards- Barry Shepherd, Matthew Castles, Matthew Agrotis, and Duncan Hannay.
Contact Information