BACK TO BUSINESS SUPPLIER – HOUSE OF TICKETS
House of Tickets – Celebrating 15 years!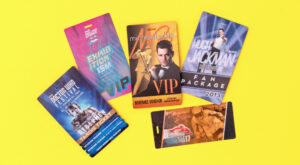 Producing all types of tickets for the best seats in the house!
From the humble admit one roll ticket through to 3D lenticular collector tickets, we have all your bases covered.
The hottest, new idea!
Create Memories and generate new revenue with a collectable souvenir ticket.  Upsell at time of sale or sell as a post event offer with no financial risk!  With mobile passes being ever more popular now, here is an opportunity to create additional revenue.
Cool 3D graphics and effects • A limited edition • World class design
Let us put together a world-class package to suit your event.
Find us on LinkedIn and Visit our website for more information at www.houseoftickets.com.au
Some of our other products and services …
Passworks All-In-One Mobile Wallet Solution • 3D Laminates, Tickets, Posters, Custom Merch and more • Preprinted Admission Tickets • Generic & Custom Thermal Box Office Ticket Stock for your Microcom, Boca or Stimare printer • Microcom, Your Next Thermal Printer! • Fulfillment Services
Contact Information