BACK TO BUSINESS SUPPLIER – ECOGLO
Great News for Facility Managers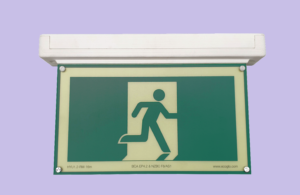 Some years after the inception of Ecoglo's hybrid photoluminescent (PL) exit sign, Standards Australia has released Technical Specification SA TS 5367: 2021, Hybrid photoluminescent signage – Product specification, installation and operation. This has been some time in the making and is great news for facility managers and building owners. The hybrid sign is a significant breakthrough in exit sign technology with features including no batteries and low power usage – key contributors to sustainability and reduced environmental impact. Indeed, the hybrid sign directly opposes the traditional battery backup exit sign. No battery means no 'discharge testing', no battery replacement and no battery disposal.
The hybrid sign combines Ecoglo's internationally recognised photoluminescent technology with latest technology LEDs and cutting-edge patented electronics. Wired into the electrical lighting circuit an array of LEDs is driven continuously from the electrical mains. The light produced by the LEDs charges the PL energy storage panel ensuring the exit sign is effective in all lighting scenarios.
This technology has now been recognised by Standards Australia in its own right. Technical Specification SA TS 5367 addresses the gap in the market for technical guidelines relating to hybrid PL exit signs and creates an alternative deemed-to-satisfy (DtS) solution and pathway to NCC EP4.2 compliance.
The following organisations support SA TS 5367: 2021.
Australasian Fire and Emergency Services Authorities Council
Australian Building Codes Board
Australian Institute of Building Surveyors
Electrical Regulatory Authorities Council
Fire Protection Association Australia
Photoluminescent Lighting Council
University of New South Wales
Contact Information
Company Name – Ecoglo International Ltd
Contact Full Name – Mike Dimond
Contact Email – miked@ecoglo.com
Contact Phone – +64 21 318981 / +61 4 0052 5625
Company Website – www.ecoglo.com