BACK IN BUSINESS SUPPLIER – Green Options
Venue Maintenance with a Difference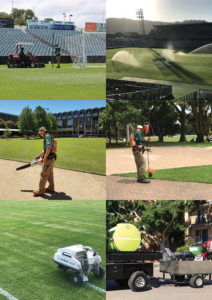 Sustainability is an important part of our business, already being an environmental industry company. We enjoy providing ideas and outcomes for our clients, namely the venues and facilities sector, who actively promote ideas to minimise waste and recycling, and using new technologies. Our teams are on the cutting edge of new technologies, making use of brand-new machines such as Robot Line Markers and advanced systems such as Smart Irrigation Systems which can be accessed and controlled through smartphones.
With new battery technology being improved for the venues maintenance industry all the time, we work closely with the machinery manufacturers to help provide feedback and ideas to continue their technology improvements. We use battery powered small handheld plant and machinery on all our new contracts, as well as hybrid mowers on large scale turf contracts.
Our teams regularly strive to bring our clients the best and latest machinery. Our staff worked closely with engineers and manufacturers to design and develop a brand-new steam weeding machine system which is an excellent way of ridding weeds around site with NO chemicals required.
The employment of best practise turf management allows our qualified staff to reduce water usage, irrigation run times and to manage clip rates with metered nutrition (slow release) and strategic plant growth regulation.