BACK IN BUSINESS SUPPLIER – 247 Software
"The Importance of Analytics and Integrations to Boost Revenue, Improve Operational Efficiency, and Reduce Risk."
Two core innovations in the venue management industry to be aware of in 2023 are analytics and integrations. These innovations provide operators with the ability to make smart, data driven decisions that will boost revenue, improve operational efficiency, and reduce risk.
ANALYTICS CASE STUDY: MELBOURNE & OLYMPIC PARK
24/7 Software provides control center management of incidents, jobs, and tasks with the customization and useability M&OP requires to maximize their performance and deliver exceptional service during world-class events, including sports, concerts, and the Australian Open. Melbourne Olympic Park Case Study
24/7 Software is launching an advanced analytics solution in 2023 that will leverage multiple data sources to form a single unified view. This will provide venue operators the ability to compare operational, incident, and safety data across venues. There will be innovative advancements for safety analytics including predictive analytics, the ability to identify near misses and areas of risk.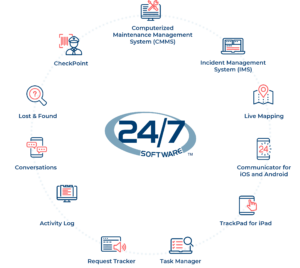 INTEGRATION CASE STUDY: KANSAS CITY CHIEFS
Integrating systems across ticketing, security, video cameras, and various data collection systems is critical to enabling your staff and optimizing the guest experience.
With the release of 24/7 Software's latest platform, facility operators are now able to manage multiple software modules and systems through a single, easy-to-use interface.
A great example is how the Kansas City Chiefs have leveraged 24/7 Software's ticketing integration. The venue is now able to gain a clearer picture of incidents by streamlining the identification of account holders. Venue staff have been able to get background information as they are now able to link an associated person's information from years past.