ICS Service Solutions invites VMA members and their guests
to join us for our first After 5! Networking event of 2022
to celebrate Australia's bid for the 2027 Rugby World Cup.
23rd FEBRUARY 2022 – With Australia being announced as the Preferred Candidate for 2027, we will bring together the greats of the rugby world and the key contributors of the 2027 Rugby World Cup bid to share insights with the VMA community in the lead up to the official Rugby World Cup bid announcement (due to be announced in March 2022).
Listen to key rugby influencers, including Wallabies, Rugby Australia, Melbourne Rebels and Rugby Victoria as we talk about the bid, the proposed venues and the what the event will mean for us.
Hosted at Melbourne and Olympic Park's newest venue – CENTREPIECE – designed to bring people together for diverse occasions in the city's cultural epicentre. Opening in Q4 2021.
Join with us in backing the BID
You can change the game!
Follow the link below to back our bid to host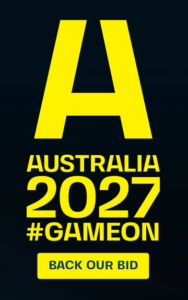 Please REGISTER YOUR INTEREST below to join us on 23rd February 2022 for this great industry networking event.
This event is free of charge for all VMA members and their guest.